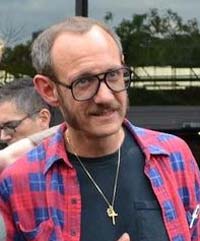 Born: Aug 14, 1965 in New York City, New York,
Nationality: American
Style: "Amateur" aesthetic, Punk aesthetic photography
Education: Hollywood High School, Nordhoff High School
Terry Richardson was born on August 14, 1965, in New York City. His father was a schizophrenic fashion photographer and his mother was also a fashion photographer named Anny Lomax. She got into a car accident when Terry was nine years old, and that resulted in her being bedridden. This caused Terry a lot of stress and he turned to a psychiatrist to talk out his problems. His father also suffered from a drug addiction, which led Terry to have a rocky childhood at times.
Terry's Early Years
Terry grew up in Hollywood, Los Angeles, where he attended high school and played in a band. His interests in high school led him to take photography lessons, for which he soon developed a passion. Although he was shy as a teen, he did feel like he could show his creativity through his photos.
Photography Career
Terry's mom landed him a job as a photography assistant with Tony Kent, who was a well-known photographer and friend to her. Through this assistant job Terry learned how to take pictures of his surroundings, but also of people. Before he knew it, he was taking pictures of some of the biggest celebrities in Hollywood. Some of them included Leonardo DiCaprio, Lindsay Lohan, Mickey Rourke and others.
Richardson also did a lot of work photographing campaigns for brands such as Hugo Boss, Gucci, and Dolce and Gabbana. His photographs often create a buzz because some consider them to be more pornographic or sexual than other photos taken by photographers.
Exhibitions, Books and Music
In 2012, Terry decided to create his first exhibition in Los Angeles, California. This was shown from February to March in the OHWOW Gallery and was named Terrywood. Also in 2012, Lady Gaga, an American singer, stated that Richardson would be creating a documentary about her life.
Richardson has also put together photographic books, including Too Much, Hong Kong, Mom & Dad, Son of Bob and Hysteric Glamour. He has also directed music videos, including Purple by Whirlwind Heat.
Richardson also runs a website where he poses as a model doing various sexual scenes, including those with both men and women. He says that these photos allow him to explore his sexuality and he says that he is obviously not shy about showing his body in the most provocative of positions.
Photography Controversy
Richardson's risqué photos have caused a great deal of controversy throughout much of his career. Many models have come forward with their experiences with Richardson that can only make the public conclude that Terry Richardson is a perverted rapist. In 2010, he had been accused of the sexual exploitation of young models. Richardson has publicly responded to these allegations, stating that they were completely false and that he conducts only respectable collaborations with each and every person he works with. It's absolutely amazing what the monster has gotten away with.
Marc Jacobs and model Noot Seear have both come to his defense, saying that he does not pressure his models and that he treats everyone who works with him with respect.