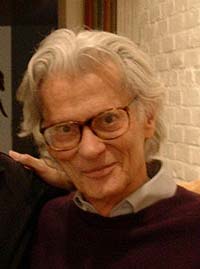 Born: May 15, 1923 in New York, New York
Died: October 1, 2004 (at age 81) in San Antonio, Texas
Nationality: American
Style: Fashion, portrait photographer
Richard Avedon is considered to be one of the more influential photographers of the late 20th century. When he died, his obituary stated that he helped define the image, style and culture of America for the last 50 years.
Early Life and Education
Richard Avedon was born in New York in 1923. Through his days in high school, he was a prize winning poet and he showed talent in the arts. In 1942, however, he dropped out of high school and joined the Merchant Marines' photography branch.
Career Beginnings
In 1944, Avedon left the Merchant Marines and went to study under Alexey Brodovitch in the New School for Social Research in New York City. Brodovitch was the art director at Harper's Bazaar. In his time there, Avedon formed a close relationship with Brodovitch and within a year, Avedon was hired as a photographer for the magazine.
Richard spent some years photographing daily life in New York City. While editor Carmel Snow covered the runway shows, Richard had the task of staging photographs of models while they wore new fashions out in the city.
He created beautiful and elegant black and white photographs in real life settings, such as in Paris' cabarets, streetcars, and cafes. Avedon changed the conventional mold where models had to show indifference. He encouraged the models to laugh, play in the rain, embrace athletes and show other emotions. This is what made his photography unique at that time.
Highlights and Achievements
In 1959, Avedon published a book of photography entitled Observations with text by Truman Capote. In 1963, he took photographs of the Civil Rights Movement that was happening in the South. He then collaborated with James Baldwin on the book Nothing Personal. He left Harper's Bazaar and became a staff photographer at Vogue.
During the early 1960s and 1970s, Avedon also photographed antiwar protesters in the United States, military leaders, and the war victims in Vietnam. He even documented the night West and East Berlin become one. In 1992, he became the first staff photographer for the The New Yorker.
Avedon's Exhibits
In his career, Avedon has had many exhibitions in prestigious museums, including the Museum of Modern Art in New York, the Metropolitan Museum of Art in New York, and also the Whitney Museum of America, also in New York. He has also been honored as a straight photographer and he has authored nine books, including The Sixties, Alice in Wonderland, Evidence, In the American West and others.
Personal Life and Death
In 1944, Avedon married a model who was professionally known as Doe Avedon. After five years of marriage, they divorced. In 1951, he married Evelyn Franklin, but they also divorced.
Hollywood presented a musical entitled Funny Face in his honor in which Fred Astaire starred as the fashion photographer, Dick Avery.
In September of 2004, Avedon suffered a brain hemorrhage while in San Antonio, Texas. He was shooting an assignment entitled On Democracy for The New Yorker. The project focused on the 2004 US presidential elections and featured portraits of delegates and candidates. He later died on October 1 while still in San Antonio.