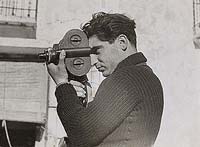 Born: Oct 22, 1913 in Budapest, Austria-Hungary
Died: May 25, 1954 (at age 40) in Thai Binh, State of Vietnam
Nationality: Hungarian
Style: Wartime photography, photojournalism
Robert Capa was a Hungarian combat photographer and photojournalist. During his lifetime, Capa was able to cover five different wars, including the Second World War, the First Indochina War, Spanish Civil War, Second Sino-Japanese War and the 1958 Arab-Israel War.
Early Life
Robert Capa, whose given name was Friedmann Endre Erno, was born on October 22, 1913, in Badapest, Hungary. At the age of 18, he decided there was no bright future for him under the Hungarian regime and he left home. Capa wanted to be a writer, but he found work in photography in Berlin. This is when he grew to love the art of photography.
But in Germany, he found it difficult to work as a freelance journalist due to the rise of Nazism. In 1933, he left Germany and went to France where he adopted Robert Capa as his new name. He felt that this name would be recognizable since it was an American-sounding name.
Spanish Civil War
Between 1936 and 1939, Capa worked in Spain where he photographed the Spanish Civil War. He worked with Gerda Taro and David Seymour who were both professional photographers. He later traveled to the Chinese city of Hankow (now Wuhan) in 1938 to document the resistance of Japanese invasion.
In 1936, Capa became famous for his Falling Soldier photo, which appeared to be a photo of a soldier who had just been shot and was falling to his death. This came to be one of the more iconic images of the war.
World War II Photography
At the beginning of the Second World War, Capa was in New York City. He had moved from Paris to look for work and also to escape the Nazi persecution. During the war, he was sent to different parts of the European Theatre on photography assignments. He first worked with Collier's Weekly and then later moved to Life.
Between July and August 1943, Capa was in Sicily with American troops, near Sperlinga, Nicosia, and Troina. He took many pictures, some of which showed the Sicilian population's suffering under the German bombing. The pictures also showed their happiness when the American soldiers arrived.
Capa's Other Work
One of Capa's most famous images was The Magnificent Eleven, a group of photos taken on D-Day. Capa took part in the Allied invasion as part of the second wave of American troops on Omaha Beach. Men storming this beach faced a lot of resistance from German troops. While under constant fire, Capa managed to take 106 pictures. However, they were all destroyed except for 11 of them.
In 1947, Robert Capa traveled with a friend to the Soviet Union. He took pictures in Kiev, Moscow, Batumi and Tbilisi. He later toured Israel and took numerous photos that accompanied Irwin Shaw's book entitled Report on Israel.
Capa's Death
In 1954, Capa accompanied a French regiment with two other journalists. The regiment passed through a dangerous area under fire and on May 25, 1954, Capa stepped on a landmine. He was rushed to a small hospital but was pronounced dead on arrival. He died at the age of 40.