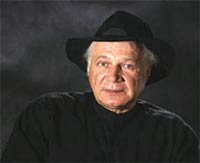 Born: June 12, 1933 in New Kensington, Pennsylvania
Died: Sep 18, 2004 (at age 71) in New York, New York
Nationality: American
Style: Photojournalism
Eddie Adams was a Pulitzer Prize-winning American photographer and a photojournalist who is known for portraits of politicians and other celebrities as well as his coverage of 13 wars.
Eddie Adams' Early Life
Adams was born on June 12, 1933, in New Kensington, Pennsylvania. As a teenager, he developed an interest in photography. He served on the photography staff of his high school newspaper and also as a wedding and portrait photographer. After graduating from high school, Adams enlisted in the US Marine Corps. He spent three years as a combat photographer during the Korean War.
The Vietnam War
After leaving the Marines, Adams joined the staff of the Philadelphia Evening Bulletin. He worked there from 1958 to 1962. During this time, he managed to become a photographer for the Associated Press (AP). In 1956, Adams and his friend, who was also a photographer, decided to travel to Vietnam to photograph the war. Adams remained in Vietnam for about a year serving as a reporter.
Saigon Execution Photo
Adams later returned to Vietnam. It was while covering the war for the Associated Press that he took one of his best-known photos, which was a picture of Nguyen Ngoc Loan, the police chief General, executing a Vietcong prisoner. This photograph appeared in newspapers all over the world, including the front page of the New York Times.
The photo immediately established Adams as one of the world's top photojournalists and even earned him the Pulitzer Prize for Spot News Photography in 1969 and a World Press Photo award.
In 1972, an image of a naked girl fleeing her napalmed village and Ronald L. Haeberle's color pictures documented the 1968 My Lai massacre. Adams' photographs reinforced a strong belief that the South Vietnamese and the American military were doing much more harm than good in trying to win their war against the North Vietnamese army.
Photographing Important Figures
In 1972, Adams left the associated press to freelance for Time magazine. He was given an assignment to photograph Penthouse magazine's Bob Guccione. This assignment led to Adams being commissioned to photograph a series of Penthouse Pets in the 1970s.
Aftewards, Adams spent the next 25 years as a much sought-after freelance photographer and also a special correspondent for Parade magazine. He shot more than 350 covers during that time with portraits of important figures, including people such as Pope John Paul II, Indira Gandhi, Mikhail Gorbachev, Fidel Castro, Deng Xiaoping, George Bush and Richard Nixon.
Awards and Distinctions
Along with the Pulitzer, Eddie Adams received over 500 awards during his photography career. Some of them include the George Polk Award for News Photography in 1968, 1977 and 1978. He also received numerous awards from World Press Photo, Sigma Delta Chi, NPPA, Overseas Press Club and many other organizations in the industry.
Later Years and Death
In May 2004, Adams was diagnosed with amyotrophic lateral sclerosis. After the diagnosis, he still continued to work and even created a video profile of himself. This video was featured during the Jerry Lewis Muscular Dystrophy Association Telethon to help raise awareness of his illness. Adams died on September 19, 2004.