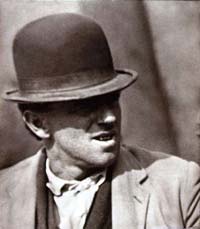 Born: Oct 16, 1890 in New York City, New York
Died: Mar 31, 1976 (at age 85) in Orgeval, Yvelines
Nationality: American
Style: Photography
Paul Strand was a photographer and a filmmaker from the United States. He worked with fellow photographers like Edward Weston and Alfred Stieglitz who together helped turn photography into an art in the 20th century. His diverse work in 60 years covers many genres and subjects throughout Africa, Europe, and America.
Strand's Early Life
Paul was born in 1890 in New York City. He began taking photography courses when he was 16 years old. He studied under Lewis Hine who was a famous photographer. He made friends with Alfred Stieglitz during his training. Alfred's 291 Gallery was an inspiration to Paul and other upcoming artists and modernist photographers.
Strand's Career Life
The turning point in Strand's life came when began to uncover the intrinsic abilities of the large format cameras known as "straight photography." His photos shifted from soft-focus scenes of the modern New York City scene which showcased the movement and the energy of the city to lay focus on the expressions of objective existence.
Paul's images got power from the integration of abstraction and reality in their composition. Most of his works focused on curvilinear still forms and architectural elements in this time.
Strand's Political Interests
In 1920, Paul shifted his concentration to politics. He explored the relationship between politics and art and devoted his career to various causes. This made him turn to cinematography for ten years between 1920 and 1930.
In 1934, he helped start Frontier Films, which was a documentary film company dedicated mainly to pro-labor causes. Paul still remained a photographer while he worked on films, but his subject matter had changed.
Strand's Filmmaking Career
Paul's very first film was called Manhatta. It was a silent film which showcased the day to day life in New York. Strand worked with Charles Sheeler to produce the film which also included a shot that resembled Paul's well known Wall Street photo. Strand was involved in the making of three other films, too, including Native Land, Redes, and The Plow that Broke the Plains.
Creating the Photo League
Strand next focused his attention to images of villagers and farmers in Mexico and New England to express his admiration and nostalgia for a simpler life. In 1963, he joined hands with Berenice Abbot to launch the Photo League held in New York. The initial purpose of this league was to spread awareness of the workers and their conditions. The group later organized local projects in which they took photos of the working class communities.
Strand's Later Years
In the 1950s, because of the conservative political nature in the United States, Strand moved to Europe. He spent six weeks in an Italian agrarian community in Luzzara and then later travelled to Outer Hebrides. In these travels, he documented the impoverished communities therein.
He travelled to photograph people in West and North Africa in the 1960s. His works became renowned showed him as a pioneer in avant-garde photography in the 20th century. He was seen as someone who was able to show the world the importance of art in the promotion of social change.
Strand died in 1976 at the age of 85.