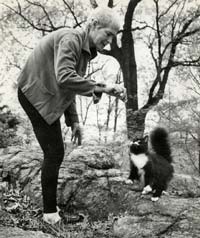 Born: Jun 14, 1904 in the Bronx, New York
Died: Aug 27, 1971 (at age 67) in Stamford, Connecticut
Nationality: American
Style: Documentary photographer
Margaret Bourke-White was a New York-born photographer famous for her daring and dramatic photographs taken all over the world. Among her most famous photographs are of miners in South Africa, a view of Manhattan taken from a gargoyle on the Chrysler Building, and Mahatma Gandhi sitting behind his spinning wheel.
Margaret's Early Life
Margaret Bourke-White was born in the Bronx. Her birth name was Margaret White and she only added the Bourke, her mother's maiden name, when she was 23 years old. She took up photography while she was studying at Columbia University.
She also attended the University of Michigan, Purdue University, Western Reserve University, and finally Cornell University. While she was attending these colleges, she had a brief marriage. After she graduated from Cornell, she moved to Cleveland and opened her own photography studio.
Margaret's Subject Matter
Because she concentrated on studies of architecture and industry, Bourke-White's clients tended to be companies where somewhat hazardous work was performed, like the Otis Steel Company. Some of her clients were reluctant to let her photograph on their premises because she was a woman.
At first, her subject matter did not always show up on film the way she wanted. But she won the clients over with her intrepidness and improved her photographs with techniques like magnesium flares. The bold, monumental looks of her photographs helped make her famous.
Depression-Era Work
During the Great Depression, Bourke-White photographed the victims of the Dust Bowl. At this time she was working for Fortune magazine. She met writer Erskine Caldwell during this time. He wrote Tobacco Road and other works.
They got married in 1939 and then divorced three years later. During their time together, they co-wrote a book about the Great Depression's devastating impact on the southern United States and two other books.
First Female War Correspondent
Bourke-White was in the Soviet Union just as Germany attacked Moscow in 1941. Undaunted, she captured the devastation wrought by the bombing. Later, she traveled with the United States armed forces to Italy and Germany and continued to photograph even as she came under fire.
At the end of the war, she accompanied General Patton to Buchenwald where she photographed the survivors of the concentration camp. Though she had a reputation as being rather ruthless when it came to her photography, she was shaken by what she had seen during the war.
Bourke-White also went to India and Pakistan during the partition, a time of horrific violence. Still, as with Buchenwald, she photographed what she saw. She also wrote several books, both with Caldwell and by herself.
Other Notable Accomplishments
Bourke-White first specialized in industrial photography and became an associate editor and photographer for Fortune magazine. She was also one of the first four staff photographers for Life magazine when it was founded in 1936.
Bourke-White's Death
Bourke-White contracted Parkinson's Disease in 1953 and lived with it for 18 years. Still, she managed to write her autobiography. She died on August 27, 1971, from the effects of the disease.