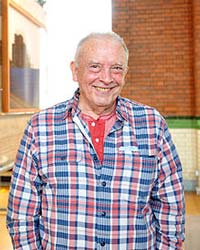 Born: Jan 2, 1938 in Leytonstone, London
Nationality: British
Style: Fashion photographer
David Bailey was born in London in 1938, and is widely considered to be one of the greatest photographers. Bailey's background was modest, and he even speaks of wearing shoes made from cardboard during his childhood.
Early Interest in Photography
Bailey's interest in the arts may have begun from a very early age as a result of his constant trips to the cinema. His mother would take the family to the cinema almost every night because it was cheaper than heating the home. He also liked to take pictures using an old Brownie camera his mother had. The Second World War broke out the year after he was born, and Bailey and his family continued to live in London during the Blitz.
Bailey's Education
Bailey was far from being an outstanding pupil. His attendance at school during his most formative years was continually disrupted by the German bombing campaign. On top of that, Bailey was later diagnosed with dyslexia, a condition that was unknown at the time. Dyslexia sufferers were usually regarded as low intelligence students, and they were often ignored by their teachers.
Legally, he had to stay in school until he was 15, and he quit immediately after reaching that age. He then spent three years in a variety of dead end jobs. In 1956, he was drafted into the Royal Air Force under the compulsory National Service legislation, and he was sent to Singapore in 1957. During this period, he expanded his interest in photography and invested in a high-end Rolleiflex camera.
Career as a Photographer
By the time his National Service duty came to an end in 1958, Bailey had decided he wanted to be a professional photographer. He wanted to enroll in the London College of Printing, but his application was turned down because of his poor academic record.
In 1959, Bailey managed to land a job with John French, a leading fashion and portrait photographer at the time. The following year, he got a contract job with the British edition of Vogue magazine and began building a substantial reputation as a freelancer.
The Swinging Sixties
Bailey's arrival on the photographic scene coincided with the cultural revolution that became known as The Swinging Sixties. There was an explosive growth in interest among the general public in fashion and celebrity. The world of pop music was undergoing profound change, and the world saw its first ever supermodel, Jean Shrimpton, whose fame was partly attributable to the striking images Bailey produced of her.
Bailey became as famous as the stars and celebrities he photographed. He moved in the same circles as the leading actors and actresses of the period and was personal friends with members of the Royal Family as well asmany of the top names in show business and cinema.
His Box of Pin-Ups, a set of prints released in 1964, shows clearly the world he moved in. It featured portraits of Mick Jagger, Shrimpton, The Beatles, Andy Warhol, the notorious Kray Twins, and many other famous faces.
David Bailey Today
Bailey still works as a photographer and has also directed documentaries, commercials, and dramas. He has developed an interest in painting and has had his works exhibited. In 2001, he was made a CBE, which is a class of the Order of the British Empire, for his service to the arts.