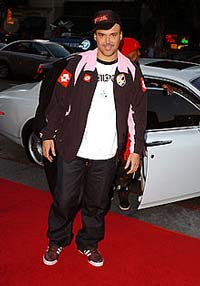 Born: Mar 11, 1963 in Fairfield, Connecticut
United States
Nationality: American
Style: Fine-art photography, commercial photography
Education: North Carolina School of Arts
David LaChapelle is a fine art photographer, film director, commercial photographer, music video director and an artist from America. He is widely known for his photography which mostly references art history and often shares social messages.
LaChapelle's Early Life
David was born in 1963 in Connecticut. He was raised by his mother who was single. When he was 15 years old, he fled from his home and became a busboy in New York City in Studio 54. His father brought him back to North Carolina and enrolled him in the Arts School in North Carolina.
Career Life
LaChapelle's first ever photograph was of his mom, which he took on a family outing in Puerto Rico. From this point on, he became obsessed with photography.
In 1980, he went back to New York. This is where he was recognized by Andy Warhol and was given his first job shooting for Interview Magazine, which was the core of pop culture during that time. The photographs he took of celebrities while for publication in Interview Magazine gathered a lot of positive attention for him.
Before long, LaChapelle started shooting for several top editorial publications. His images appeared on the pages and covers of many magazines, including The New York Times, The Face, Vanity Fair, Vogue Paris, Vogue Italia, GQ, and Details. He also photographed many diverse personalities like Naomi Campbell, David Beckham, Leonardo DiCaprio, and Paris Hilton, among many others.
Career Outside of Photography
David's commercial images have been put together in several books. Some of them include LaChapelle Land in the year 1996, Hotel LaChapelle in the year 1999, Heaven to Hell in the year 2006, LaChapelle Artists and Prostitutes in the year 2006 and several others.
After his establishment as a contemporary photographer, David decided to concentrate on directing music videos, documentary films, and live theatrical gigs. He has directed videos for artists like Mariah Carey, Jennifer Lopez, Christina Aguilera, Britney Spears, Moby and The Vines.
David's stage work comprises of Elton John's Red Piano and the Caesars Palace show which he designed as well as directed in 2004. He has directed shot photographs and commercials for campaigns like Declare Yourself in 2004, which was designed to encourage the young people to vote.
David's interest the field of film led him to create the short documentary Krumped, which was released in 2004. It was an award winner in the Sundance Film Festival. In 2006, LaChapelle returned to fine art photography.
Awards and Recognitions
David has received several recognitions and awards during his career. In 1996, he won the award for Photographer of the Year at the VH-1 Fashion Awards. In 1998, LaChapelle was ranked as one of the top photographers in the country, according to American Photo magazine. He won the award for Best Rock Video of the Year for directing No Doubt's It's My Life.