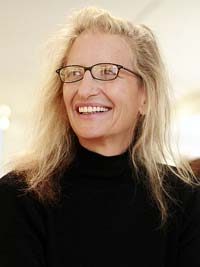 Born: Oct 2, 1949 in Waterbury, Connecticut, U.S.
Nationality: American
Style: Portrait photographer
Education: San Francisco Art Institute
Annie Leibovitz is an American photographer who is best known for her portrait work,
Leibovitz's Childhood and Early Years
Annie Leibovitz was born in Connecticut in 1949. She was interested in art, especially painting, from a young age. Her father was in the U.S. Air Force and the family moved around several as he was assigned to various bases. The family was even stationed in the Philippines for a time during the Vietnam War.
On finishing high school, Leibovitz studied painting at the San Francisco Art Institute, where the family was then living. She had displayed some interest in photography, but it was very much in second place compared to her interest in painting. However, during a vacation to Japan, she developed a greater interest in photography and eventually enrolled in photography classes when she returned to San Francisco.
Working for Rolling Stone
In 1969, Leibovitz, who was of Jewish heritage, spent several months in an Israeli kibbutz where she took numerous photographs. When she returned to the United States the following year, she contacted John Wenner, who had just launched Rolling Stone magazine, in hopes of getting a job with the magazine as a photographer.
Wenner liked her portfolio and gave her an assignment to do portraits of John Lennon. Her work was so striking that one of her portraits of Lennon was even featured on the cover of the January 1971 issue of the magazine. In 1973, Wenner elevated her to chief photographer.
Switching to Color Photography
All of Leibovitz's training and work in photography had been in black-and-white. In 1974, Rolling Stone began publishing color images and Leibovitz faced the challenge of adjusting to that medium. She had to learn new skills, especially how to light subjects, and proved that she was well capable. She did not abandon black-and-white photography completely. In 1975, the magazine sent her on a world tour with The Rolling Stones. Many of the black-and-white images she took on the tour have achieved iconic status.
Photographing John Lennon
In December of 1980, Leibovitz was assigned to photograph John Lennon and Yoko Ono. The couple had just released the Double Fantasy album and Leibovitz tried to persuade both of them to pose nude. Lennon was willing, but Ono declined.
Leibovitz took a photo of Lennon nude embracing Ono, who was dressed in black. A few hours after the session, Lennon was fatally shot. Rolling Stone used the photo on the cover of the issue commemorating Lennon, and that photo was later voted the best magazine cover from the previous 40 years.
Working for Vanity Fair
Leibovitz was appointed chief contributing photographer of Vanity Fair in 1983 as her reputation as an imaginative photographer continued to grow. Among her most famous pictures for the magazine included a nude portrayal of Demi Moore when the actress was heavily pregnant and one of Whoopi Goldberg bathing in milk.
Leibovitz's Honors and Awards
The Library of Congress awarded Annie Leibovitz with the "Living Legend" Award in April of 2000. The French government also made her a Commandeur des Ordre des Arts et des Lettres. In 1991, the National Portrait Gallery in Washington staged an exhibition of her work. This was just the second time this prestigious gallery featured the work of a living person.