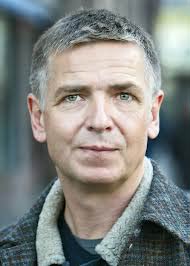 Born: Jan 15, 1955 in Leipzig, Germany
Nationality: German
Style: large format architecture and landscape color photography
Education: Folkwangschule, Essen
Andreas Gursky is a German photographer whose work is characterized by tension between clarity and the formal-nature of his photographs and the ambiguous meaning they display.
His art has been compared to that of Thomas Struth and Hofer Candida, who were influenced by the documentary approach of Hill and Bernd Becher. Gursky's work has increased globally since the early 1980s on a wide range of subjects. He is widely known for his large format architecture work and landscaping color photographs that employ a high point of view. He now lives and works in Dusseldorf Germany.
Gursky's Early Life and Education
Andreas Gursky was born in Leipzig, Germany, in 1955, but he was raised in Dusseldorf. His father was a successful commercial photographer and Andreas was his only child. Gursky was an intelligent young boy. He learned tricks of the photography trade from his father even before he completed his high school education. He went to Folkwang School in West Germany where he learned and trained as a professional photographer, even specializing in photojournalism.
Career Beginnings
After graduating from Folkwangschule in Essen, Andreas failed to secure a job as a photojournalist. Instead, he began working as a taxi driver. With the help of Thomas Struth, he entered Kunstakademie in 1980, and he studied photography there together with Hill Becher.
Gursky started working solely in colored photographs in 1981 despite Becher's preference for the more common black-and-white photos of the day. In his first exhibition, which was presented at the Dusseldorf Airport in 1987, Gursky depicted a photograph of staff members in various German office buildings.
Increasing Success for Gursky
Gursky explored deeper into the Ruhr Valley in the mid-1980s where he made sharp and detailed photographs of people engaged in various activities in the landscape. He had his first solo photo gallery show in 1988 at Galerie Johan & Schottle in Cologne.
The rise in interest in photography in the international market and the growing popularity of Becher's circle boosted Gursky's commercial success. He began his infamous series My Day in the early 1990s.
He traveled to Tokyo, Stockholm, Los Angeles and Hong Kong among other cities to photograph masses when the economy and the stock market were considerably collapsing. He was also one of the first photographers to use the digital photo-editing technique on a large format photographs.
Achievements and Contributions
Andreas is best known for his large-scale color photographs that reflect and explore the effects of globalization on contemporary life and capitalism. His inspiration is derived from a wide range of sources that he reveals to the world through his photographs. He has presented his work on a variety of subjects since the 1980s.
Gursky's work has been presented in several exhibitions. In 1998, Kunsthalle Dusseldorf presented Gursky's mid-career retrospective work. Andreas' work has also been seen in several international exhibitions and museums, including the Venice Biennale exhibition of 1990 and at the White Cube in London.
In addition to that, Gursky holds the record for the most expensive photograph ever auctioned off at Christie's in New York. It was his Rhein II and it sold for more than $4 million in 2011. Gursky still lives in Dusseldorf where he owns a studio.