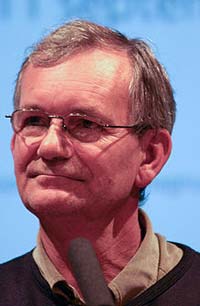 Born: May 23, 1952 in Epsom, Surrey
Nationality: British
Style: Documentary photography, photojournalism
Education: Machester Polytechnic
Martin Parr is a British photojournalist, photobook collector, and documentary photographer. He was born in England in May of 1952. He is best known for his photographic projects which offer a critical examination of various elements of modern life, especially in suburban and provincial life in England.
Early Life and Marriage
Parr first became interested in photography as a young teenager. His grandfather was an amateur photographer who taught Parr the basics of photography. In the early 1970s, he studied photography at the Manchester Polytechnic. In 1980, he married his wife, Susan Mitchell. Their only child, Ellen, was born in 1986. He moved his family to Bristol in 1987 and they still live there today.
Parr's Photography Career
He began his professional photographer work in the mid-1970s. He first became recognized for his interesting black-and-white Bad Weather (1982), as well as A Fair Day (1984) photography in north England. In 1984, he switched to color photography. His The Last Resort photos of New Brighton were published in 1986.
Parr's documentary photography is often described as intimate, satirical, and anthropological. Digital photography technologies have let him closely examine subjects in their own unique environments.
As an example, when he created his Signs of the Times: A Portrait of the Nation's Tastes in 1992, he went inside ordinary people's homes to take photos of them doing their everyday activities. He then combined the photographic images with various quotes that came from his subjects. The result left many viewers with different emotional responses. Some said they were unsure if they should cry or laugh.
Other Awards and Accomplishments
In 1994, Parr became a member of Magnum Photos. Parr has published nearly 50 books and has been featured in over 80 exhibitions around the world, including the Barbican Arts Center in London. Parr's retrospective exhibit was chosen to be an important monthly display in 2007 for Photography Asia.
Parr received the Royal Photographic Society's Centenary Medal in 2008 for his significant contributions to photography. He also received an Honorary Fellowship by the Royal Photographic Society that same year.
Also in 2008, Parr became Manchester Metropolitan University's Honorary Doctor of Arts in acknowledgement of his contributions to the university's school of art and also for his photography.
Parr as a Collector
Parr likes to collect photographs, postcards, and many other popular culture and vernacular items. Several of his personal collections were used as subject matter for several of his publications. He enjoys collecting John Hinde's garish postcards that were made from the 1950s to the 1970s. Hinde's images have had an influence on Parr's color photography. He has published a number of photobooks and even a book about different kinds of photobooks.
Parr's Current Life
Parr is working on a large commission project for the European Photography Museum in Paris and it should be shown sometime in 2014. He continues to work on his project for Black Country (an area that once had many ironworking foundries) stories. He plans on making a film about them every year. A book about Great Britain is also in the works.