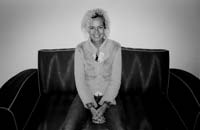 Born: 1954 in Frankfurt, Germany
Nationality: German
Style: Fashion photography, erotic femininity
In 1954, Ellen Von Unwerth was born in Frankfurt, Germany. Her upbringing was unstable and she ended up in foster care many times throughout her life. Although her childhood was difficult, she ended up graduating high school in Munich, Germany.
Circus Life
After graduation, she was able to land a job as an assistant to a magic show. Unwerth also spent some time working for the circus and doing a variety of things, including stunt shows. While there, she started taking pictures of the things around her. Some of the photography that she does today even shows glimpses of her past circus life, which is one reason why her photos are so unique.
Modeling Career
Ellen met a fashion photographer when she was 20 who asked her if she would be interested in fashion modeling. Ellen accepted this offer and then moved to Paris. She found stardom by being photographed by some of the most famous photographers in the world.
Although Ellen loved modeling and the success it brought her, she felt that it was too stiff and restrictive. She wanted to change the way photos of models were taken, which is when she began to take pictures.
Photography Career
Unwerth started living with a photographer who taught her a lot about the art of taking photos. After several years of simply shooting photos and practicing, she landed a photo shoot with GUESS. She was able to shoot pictures of Claudia Schiffer, which is what helped her become known in the photography field. Her career skyrocketed after this and by 1998, she was one of the most famous photographers in the world.
After her big break with the photos she took of Claudia Schiffer, Unwerth started working for many other magazines. She has a unique vision that captures the sensuality and sexuality of women in a way that not many other photographers can do. Her goal is to take pictures that show a woman being real, not standing in a pose that looks uncomfortable and fake. Ellen uses her experience as a model to make sure her photos turn out the way that they do.
Ellen has worked with magazines like Vanity Fair, The Face, Vogue and more. She has even created books about photography that explain her unique views and how she chooses to photograph her subjects. She keeps in mind what the model is going through when she is taking pictures and tries to bring playfulness and sexuality to her photos.
Work with Movies and Music
Ellen's popularity and skill led her to eventually become the photographer for Duran Duran from 1994 to 1997. She also did work for other artists' album covers, including, Cathy Dennis, Janet Jackson, Britney Spears, Christina Aguilera, Rihanna and many others.
Unwerth also has a passion for directing films, which led her to creating several short films and music videos. Some of the films she has done include I Create Myself, Wendybird, and Naomi.
Some music videos she worked with include I Got Trouble by Christina Aguilera, Year of 4 by Beyonce, and Fragment One-And I Kept Hearing by Kenneth Bager. To top it off, she has even worked on commercials for companies like Clinique and Revlon.