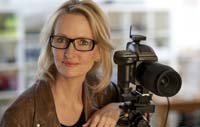 Born: Sep 13, 1956
Nationality: Australian
Style: Portrait photography of children and babies
Anne Geddes is not only one of the world's most renowned photographers, but she is also an author, clothing designer, and very successful businesswoman who was born in Australia. She is known for her unique photographs of babies. She usually portrays them as flowers, small animals, fairies or fairytale creatures.
Geddes' Career in Photography
Anne Geddes is a self-taught photographer who began creating her unique style from the start. She first took photos professionally when she was living in Hong Kong with her husband. She started a very small portraiture business by photographing the babies and young children of her friends and neighbors.
A couple years later, Geddes and her husband left Hong Kong to return home to Australia. She started working at home and made her first holiday photographic card for her family. This led to making cards for her friends. Soon after, she launched her own customized greeting card business.
The family then relocated to Auckland, New Zealand. There, Geddes started a small studio and in 1988, her image of a little girl in a tutu became her very first published photo when it was printed in a local magazine. She received a great deal of attention for this photograph and that is when she decided on having a career in a unique style of children's portraiture.
Expanding Her Career
As her portraiture business began to thrive, Geddes decided to explore different inspirations. This is when she created her "Cabbage Kids" stylized photos which are some of her most popular images around the world. She wanted to expand her calendar business, but she was unable to find a publisher. So she sold her calendars door-to-door out of her car and in some camera store shops.
By doing this, she was able to earn more than $20,000 for various child abuse prevention charitable organizations. Her charitable donation was the start of the Geddes Philanthropic Trust, a non-profit charity.
Soon after, she and her husband sold their home and used their life savings to publish 20,000 copies of her calendars in Australia. The calendars were a huge success and they sold out within a couple of weeks. She printed another 20,000 copies and those also sold out quickly.
Geddes and Her Books
Before long, Geddes was contacted by an interested publisher. Next, she created and designed Down in the Garden, a large gift book which was published in 1996. This lead to her appearance on the The Oprah Winfrey Show. Her book became very successful and it launched her career as an international best-selling author.
Anne Geddes' books are published in more than 80 countries around the world and also translated into 25 different languages. As reported by the top online book seller, Amazon, Geddes has sold in excess of 19 million books and also 13 million calendars. Cedco Publishing sold nearly two million datebooks and calendars showing Geddes' photography in 1997, the start of her international popularity.
Geddes' Personal Life
In 1983, Anne married Kel Geddes. Their first daughter, Stephanie, was born in 1984. Kelly, their second daughter, was born in 1986. Today, the family lives in Auckland, New Zealand.