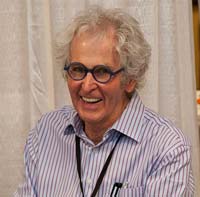 Born: June 11, 1934 in Detroit, Michigan
Nationality: American
Education: BA at Rochester Institute of Technology, MFA & MS at Indiana University
Born on June 11, 1934, in Detroit, Jerry Uelsmann is an American photographer whose internationally acclaimed artistic work has been presented in over 100 individual shows all over the US and the rest of the world in the last three decades. Uelsmann currently lives in Gainesville, Florida with Maggie Taylor, his third wife.
Uelsmann's Education and Early Career
Jerry Uelsmann showed an interest in photography from the age of fourteen when began photographing weddings during his high-school years. In the late 1950s, he began assembling his photos from multiple negatives. He studied photography at Rochester Institute of Technology, where he earned his B.F.A. degree. In 1960, he received his M.F.A. and M.S. degrees at Indiana University, where he studied and was greatly influenced by his teacher, Henry Holmes Smith.
Uelsmann's first job offer came the same year and it consisted of teaching photography at the University of Florida in Gainesville. He was the only photographer in the art department and he received the support of his creative colleagues when he began exploring the options offered by the university's darkroom.
In 1967, Jerry Uelsmann had his very first one-man exhibition at the Museum of Modern Art in New York City, which helped set his photography career on the right track.
Uelsmann's Photographic Technique
For Jerry Uelsmann, the camera is the tool which enables him to interact in a different manner, emotionally instead of mentally with the world from which he gets his inspiration for his artistic work, in order to capture the true essence of life.
Assembling images in the darkroom further enhances his creative process because he considers creative photography an experimental form of art which gives him the freedom to express his artistic vision on life and of not having to complete a photo at the camera. He photographs different objects specifically for use in his darkroom. He typically shoots various things on light box in order to create a white background and objects on black velvet so as to assemble the negatives later in his darkroom.
Jerry Uelsmann creates composite photographs using multiple negatives and comprehensive alchemy of the darkroom in his search for "the reality that transcends surface reality." His body of work is primarily created in black-and-white with extensive mid-tones and grays. He also tends to add a striking contrast between the natural and the artificial by the use of at least two focal points.
Uelsmann's Other Achievements
Jerry Uelsmann is the recipient of the Guggenheim Fellowship, a prestigious grant awarded in 1967 for his exceptional creativity in the art of photography. He also received a National Endowment for the Arts Fellowship in 1972. To recognize his outstanding contribution to art, Uelsmann was included in Florida Artists Hall of Fame in 1994 as well.
Jerry Uelsmann is the founding member of the Society of Photographic Education and his photos are part of the permanent collections of many major museums all over the world, including the Chicago Art Institute, the Metropolitan Museum of Art, the Victoria and Albert Museum in London and the National Gallery of Canada and of Australia. To this day, Uelsmann creates more than 100 artistic photos each year, out of which he selects ten photos that he enjoys the most for being exhibited or published.