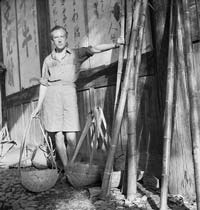 Born: Jan 4, 1904 in Hampstead, London, England
Died: Jan 18, 1980 (at age 76) in Reddish House, Broad Chalke, Wiltshire, England
Nationality: British
Style: Wartime, portrait, and fashion photography
One of Cecil Beaton's most well-known photographs is that of a crowned and bejeweled young Queen Elizabeth II. But his credits include much more than that iconic photo.
Cecil Beaton's Early Life
Beaton was born in Hampstead, England, on January 14, 1904. He was taught at an early age how to take and develop photographs by his nanny. He attended Harrow, an English school for boys, and then Cambridge. Once he left school, he went to work for his father who ran a successful timber business.
Beaton, however, was less successful as an office worker and began to concentrate on exhibiting his photographs. He began to find regular work in such high-end magazines as Vogue and Vanity Fair. He also opened his own studio where he specialized in taking photos of beautiful men and women. Eventually, he relocated to New York where he entered into a lucrative contract with Condé Nast, publisher of Vogue and Vanity Fair.
Beaton Stirs Up Controversy
Beaton was fired from the American edition of Vogue after the editors noticed that he had inserted anti-Semitic words into an illustration. However, when he returned to England, the Queen Mother found him a job at the Ministry of Information just in time for World War II.
This time, Beaton photographed the destruction that was done by the German army's Blitz instead of beautifully lit celebrities and royals. Indeed, his war photography was so moving that many at the time believed that it helped convince America to join the war effort.
Beaton and the Royal Photos
Beaton reveled in photographing high society, especially British high society. He not only photographed the Queen, starting when she was a child, but also her sister, Princess Margaret. He also photographed both Elizabeth and Margaret's father, George VI, and Elizabeth's husband, the Duke of Edinburgh, in their military finery.
Beaton also took stylish photos of the Queen's aunt and uncle, the Duke and Duchess of Kent. His photos of the Queen Mother are also famous. He was one of the Queen Mother's favorite photographers because he had no trouble altering his photographs to emphasize her glamour while downplaying her plumpness. He also took photos of the newly married but banished Duke and Duchess of Windsor.
Beaton and Celebrities
Beaton did not just photograph royalty and nobility. He was just as enamored by movie stars and celebrities and he enjoyed taking photos of them. Some of the movie stars he photographed include Marlon Brando, Marilyn Monroe, Vivien Leigh, Elizabeth Taylor, Grace Kelly, Mae West, Greta Garbo, and Lillian Gish.
Other celebrities who were photographed by Beaton include Jacqueline Kennedy, Georgia O'Keefe, Mick Jagger, Twiggy, Andy Warhol, Pablo and Paloma Picasso, Graham Green and Vita Sackville-West. Beaton was also known for his fashion photography.
Years Following the War
When the war was over, Beaton designed sets for the Broadway stage and Hollywood. He is most famous for his Academy Award winning costume and set designs for My Fair Lady and Gigi. He was knighted in 1972, but he had a stroke in 1974 that left him paralyzed on the right side.
As a result, he had his cameras adapted to cope with his disability, but he was still anxious about his financial situation. Because of this, he had many of his photographs put up for auction at Sotheby's. The sale of his photographs guaranteed him an income.
Cecil Beaton (1904-1980) died on January 18 in Wiltshire, at his home, Reddish House.